Digital Marketing Training Institute Pune
Best Digital Marketing Certification Courses In Pune
The Internet has opened avenues for the entire world. There are so many people who are hyperactive on various social media platforms. And to target these leads you need a Digital Marketing Strategy and it to get in-depth training, you must choose the Best Digital Marketing Institute in Pune which is – Optimized Infotech(OI). With more than 11 years of experience, our Digital Marketing Certification Course imparts all the requisite to become a successful marketer. Moreover, we have Google certified instructors who will not only share their expertise and knowledge but also help you to prepare for your dream jobs.
Optimized Infotech is always there to help you in getting the Best Digital Marketing Training in Pune on the subject of Internet Marketing as per the current market demand. We offer some of the most relevant and authentic courses on this topic that can help you to understand the same in an easy manner. You can learn the most advanced methods of Digital Marketing and know how to deploy them for the proper augmentation of a business.
Why Optimized Infotech Provide The Best Digital Marketing Courses In Pune
Our course covers all the aspects that help to bloom your business and career. We impart lessons on online promotion and ways to utilize your expertise to carve profit of your business. Also, we teach ways to come up with an online strategy with the help of 40 modules and various digital marketing tools. Alongside, we give free access to learning resources wherein you strengthen your skills efficiently. The course also comprises of the live project which gives hands-on experience to our pupils. Above all, the fee structure of Digital Marketing Courses in Pune are affordable and timings immensely flexible for every student to avail our course.    
We are the leading

Online Marketing Institute in Pune

as well as

Pimpri- Chinchwad

. We have been serving this industry for Last 11 years. We have some of the most talented, highly-qualified and Google certified trainers of this subject who can help you to know the best and most advanced parts of online marketing in the easiest way possible.

Our training helps you to fix your target while applying Digital Marketing methods. Once you know what should be your goal in business, then you can understand how to reach the same. The training we offer helps you to achieve both.

We provide the latest updates on the subject of digital marketing. The faculties will share the information with you on the most recent happening in the world of digital and social media.

We offer training to the people who have the aim of pursuing a great career in the Online Marketing field. At the same time, we offer training to the people who like to deploy these techniques for the augmentation of their own business. That means both the digital marketing professionals and the entrepreneurs can get training from

Optimized Infotech.

We offer certificates once you complete the training in a successful manner. The certificate can help you to prove your excellence and skill as a

Digital Marketing expert.
What you will learn with the best Digital Marketing Institute in Pune- Optimized Infotech
Digital marketing is a vast concept with a gamut of factors. But there are fundamental topics that are usually covered in the Digital Marketing Courses  and they are:
Search Engine Marketing (SEM) – through sponsored advertisements, you can boost the visibility of your website.

Social Media Marketing (SMM) – using social media channels – Facebook, Twitter, Instagram, LinkedIn, etc., for brand promotion.  

Search Engine Optimization (SEO) – it's an organic way to boost the ranking of your website on various search engines like Yahoo, Google, Bing, etc.

Web Analytics – it's a classic way to analyze the traffic, behavioral pattern of visitors, conduct market research to boost the visibility of the website.

Mobile Marketing – a section for mobile fanatics where you keep your prospects hooked with information and updates through smartphones.

Email Marketing – drafting newsletters, channelizing periodic email campaigns are some of the aspects included in it.   

Content marketing – writing unique content through articles, blogs to attract visitors.
Be An Expert in Digital Marketing with 40 Modules of Advanced Training Program in Pune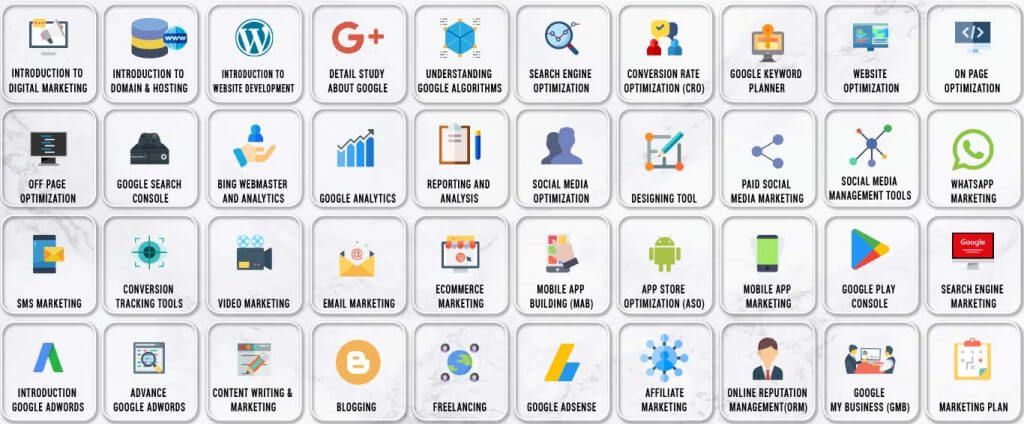 Build your career with the best digital marketing courses in Pune
There are immense lucrative job opportunities in the world of digital marketing. But for that, you need the skillsets which are infused after enrolling in the Best Digital Marketing Courses in Pune. At Optimized Infotech, we help you with tactics to boost your online presence. We help you to enhance your creativity for your better career graph. We also help you with designing and creating a winning resume along with job assistance so that your career kickstarts at a smooth pace.  Most importantly, we present certification for Digital Marketing Courses in Pune, to prove your ability and knowledge.
There has been humongous response for digital marketing specialists. After pursuing your Digital Marketing Courses in Pune, you can apply in some of the bigwigs at different posts.
Digital marketing manager – with this profile, you get a chance to enhance your brand in the digital space by developing and promoting marketing strategies.   

Social media executive – with this profile, you get to handle social media channels in order to engage the visitors.

Content writer – if you have a flair for writing than churn out unique and quality content for your brand with blogs and articles.

SEO executive – the responsibility of SEO executive is to boost the traffic on your client's website.
Our classroom training program for digital marketing courses
Our instructors are the soul of our Digital Marketing Institute in Pune and so we have well-experience and well-qualified instructors. Moreover, our instructors are Google certified with ample knowledge about the nuances of digital marketing. Most importantly, our instructors are working professionals who have earned accolades in their respective corporate life. Besides being readily available they also motivate students from time-to-time, especially while assisting for placements. Apart from this, we also have industry experts on board. These experts impart some important lessons about the phenomena of the industry to make you well aware of the situation beyond.
Optimized Infotech provides Practical and theoretical on-boarding session for Digital Marketing Classroom Training in Pune. We undertake numerous projects for Real-Life Practice and even conduct internship programs.
We provide you with case studies, live projects to work upon for practical knowledge. The Digital Marketing Courses in Pune that we provide is a perfect blend of academics and practical sessions. Once can get their hands on various tools and technologies used for digital marketing
125 pages of notes on digital marketing prepared by industry experts
The course syllabus is designed in such a manner by our Digital Marketing  Training Institute in Pune, that covers all the fundamental aspects and it is also a  customized one. Notes will cover all the industry required aspects about digital marketing.
Once you join our Digital Marketing Training Institute in Pune we provide you with lifetime training assistance. After the completion of your course at any point in time if you feel that you have missed something or you have doubts you can reattend the sessions.
Learn 40 advanced modules of digital marketing
The syllabus will cover topics like Introduction to digital marketing, Introduction to hosting & Domain, Introduction to website development, understanding Google algorithms, detail study about Google, Search engine optimization, website optimization, and much more.
Missed your session? Don't worry you can seat in other batches.
If you missed any session of digital marketing due to your personal reasons then you can seat in another batch and cope up with the missed sessions.
Training from Google certified trainers.
 Our trainers are experienced in the field of digital marketing and are Google certified trainers. They will guide and train you with the latest tools and techniques of digital marketing.
After the completion of your course will we provide you with an internship letter of 2-3 months that will speak about the work you have done in this 3 months duration.
Our trainers will also guide you to build a professional resume.
100 interview Questions and Answers
At the end of the course, we provide you with 100 interview questions and answers that will help you to prepare for the interview.
Once you finish with the course, there will be a mock interview held by our trainers to know how well prepared are you for the interview and how much have you'll grasp from the sessions.
Course Completion Certificate
You will get a certificate from Optimized Infotech saying that you have completed the Digita Marketing course`
Google Certificates (Fundamental + Advanced )
After completion of the training, you will become a DIGITAL MARKETING Expert and will also hold a place as a GOOGLE Certified Professional.
100% placement assistance
We provide you with 100% placement assistance by providing you the details of the company where ever opening are held.s
Digital Marketing Tools That Will Help You Become A Professional
Our instructors are the soul of our Digital Marketing Institute in Pune and so we have well-experience and well-qualified instructors. Moreover, our instructors are Google certified with ample knowledge about the nuances of digital marketing. Most importantly, our instructors are working professionals who have earned accolades in their respective corporate life. Besides being readily available they also motivate students from time-to-time, especially while assisting for placements. Apart from this, we also have industry experts on board. These experts impart some important lessons about the phenomena of the industry to make you well aware of the situation beyond.

Affordable course fees
Not every student finds it practical to pursue Digital Marketing Courses in Pune. And so, we at Optimized Infotech, have designed courses that are affordable for every walk of life. We have a Professional Courses in Digital Marketing with Lowest Fees Structure, which gives significant digital specializations like – social media marketing, mobile, email, SEO and PPC. Most importantly, we give choice to students to choose from online and offline courses so that there is no imbalance of funds. Above all, we have spread across Pune like Kothrud, Wakad, Shivaji Nagar, Hadapsar, Viman Nagar, and Pimpri-Chinchwad so that we stay accessible for all! 
Easy way to join us
As Optimized Infotech is available across Pune – Viman Nagar, Kothrud, Wakad, Shivaji Nagar, Hadapsar, and Pimpri-Chinchwad, you can choose the accessible branch by searching "Digital Marketing Training Institute Near Me". It doesn't matter if you have meager knowledge of digital marketing because we have a beginner's course with basic methodologies! Moreover, you can place your queries and get entire information through our website Taining Institue Pune . You can also drop an email on info@optimizedinfotech.com or call on +91 8007777243 and +91 8007 122 500 for further assistance. Above all, we have flexible timings especially for corporates and offer various payment modes with an affordable fee structure.     
Looking For BEST DIGITAL MARKETING COURSES in PUNE? 
SCHEDULE A FREE DEMO SESSION NOW!
Enhance Your Knowledge With Demanding Digital Marketing Skills
FAQ's About Online Marketing Training in Pune
1. What is Digital Marketing?
Digital Marketing is broad term through which we can market our products & services through electronic and social media. It provides various promotional techniques & methodologies which is deployed to reach customers via digital technologies.
2. Is free Demo Session Available?
Yes! We offer a free demo session for digital marketing training.
3. How do I enroll in a course / courses?
After completing inquiry for digital marketing course you can enroll yourself by registering online OR manually. Our consultant will guide you for enrolling process.
4. How long does it take to complete Digital Marketing Course?
If you are Looking for Regular Batch Need to spend 2 Months & for Weekend (Sat-Sun) Batch need to spend 2-3 months.
5. What type of degree/diploma will you provide me?
You will be provided with industry recognized Certificate in Digital Marketing for after completing digital marketing training. Certificate will be valid all over India.
6. Is there any Flexible Timing for working professionals?
Yes! For working professional we offer weekend batches so that timing would be flexible to attend training sessions.
7. Can I get Job Assistance from your side after completing the course?
Yes! You will get 100% Job Assistance after completing Digital Marketing course
8. What kind of practical experience I will get in this course?
While undergoing training you will be provided live projects to work on. So that you can get hands-on experience and learn digital marketing techniques and methodologies.
9. What is the basic skill set required before enrolling me for the course?
Enrolling course you are required to have knowledge of basic HTML and basic computer knowledge.
10. What would I learn during digital marketing training?
Search Engine Optimization
Social Media Marketing
Search Engine Marketing
Web Analysis Tools & Techniques
Email marketing
Digital Marketing Strategy
11. Are your trainers well qualified to give training in digital marketing?
The faculties that train the students in our Training Institute are all experienced and Google Certified Trainers.
12. What are the locations you are available in?
We are located at 5 different locations in Pune which are Kothrud, Wakad, Shivajinagar, Hadapsar & Pimpri-Chinchwad.
13. Who can enroll for Digital Marketing Course?
Any person who has a passion for Digital Marketing and can explore on the web can enroll in digital marketing training.
14. What if I was not able to attend some of the lectures?
If you have missed some sessions then you can attend the same sections in another batch and cover all missed topics without any additional charges.
15. Do You'll provide any study material?
Yes, we provide study material prepared by industry experts and also provide you with 100 interview questions after the completion of course.
16. What if I could not grasp a particular topic or understand it in one session?
You can always clear your doubts about the topic during the session itself or after the session (extra time).
17. What are the career opportunities after completion of Digital Marketing Course?
You can work as a digital marketing analyst, digital marketing executive, SEO Team lead, SEO or PPC Trainee, Business Developer, content writer, digital marketing manager etc.
18. Do you'll help us to get Google Certification?
Yes, the syllabus that we teach includes complete Training & Guidance on Google Certification. Google Certification is Free of Cost and can be done anytime, anywhere & it is valid till 1 year.
Digital Marketing Interview Questions
Digital Marketing Training Institute Pune Student Reviews
Raj Borkar

(, )

The lectures conducted by Atul Sir were very interactive & were always set upon with real-life examples. He used to listen to all the questions patiently & answered them well. Batch timings are also suitable. Sessions missed could be covered in another batch. Optimized Infotech for Digital Marketing course has turned out to be a very important milestone in my career.

Aditya Tripathi

(, )

Optimized Infotech doesn't only provide Digital Marketing courses but also act as a mentor where they guide you in all possible aspects like training, Google Certification and interview preparation. Atul Sir has always been very supportive and guided me. Teaching methods are excellent where they provide both theoretical and practical knowledge.

Pooja Simepurushkar

(, )

They use unique and latest way of teaching. Milind Sir makes learning fun by providing real-life examples. They have a great sense of humor where every insight is discussed. 

Optimized Infotech came out as a perfect institution that has met my expectations as they have the best of all in terms of training, modules, fee structure, and trainers.

Rakhi Sharma

(, )

The moment I finished my graduation, I was looking forward to do a course in Digital Marketing as it has a wide scope. The decision of doing a course in Digital Marketing made me land in Optimized Infotech, a training institute for Digital Marketing Course. I successfully completed my course and I got an instant placement with my kind of profile and package.

Akash Paul

(, )

I was really confused by the thought of choosing the best Digital Marketing Training Institute. Then I heard about the free demo session at Optimized Infotech where apart from showing the syllabus and insights of the course modules, Milind Sir cared to know and understand my expectations from digital marketing course and my future plans.

Amita Gawas

(, )

Optimize has friendly teaching environment with a very professional attitude. It stands out among many other Digital Marketing Training Institutes who claim to be the best. Chaitali Mam has taught me and she has been very supportive. Her teaching skills are highly professional & she makes sessions very interactive. 

Best experience & a good decision to join this Institute.

Flavia D'souza

(, )

It is a great institute to undertake Digital marketing course. Before joining the Institute I used to work for a Company but then I realized I was lacking in knowledge about many tools and was unaware of many things. So one of my close friend recommended me Optimized Infotech training institute for digital marketing course and now I can see the difference in my skills.

Sachin Patil

(, )

I joined Optimized Infotech training institute in Pune for Digital Marketing Course. They provide both Practical and Theoretical knowledege. After my course completion, they helped me with placement too. The trainers over here are all Google Certified trainers with years of experience. The Institute is full of positive vibes and good learning environment.

Nilkant Naik

(, )

The best place to learn digital marketing. Here you will get real-time experience and end of the day you can choose your company that much of confidence you will get completion of course, please don't miss a single class also. All the classes are very interested and very useful and all the teachers are giving more exposure. Thank you Milind sir and team.
Google Adwords Certified Professionals
Digital Marketing Training Seminar & Workshops
Course Ratings
(258 votes, average: 4.95 out of 5)

Loading…